A Matryoshka doll or nesting dolls is the best metaphor to describe the economic-political relationship between Russia and China. Some elements of this Matryoshka doll are determined by market relations, while others are manually controlled by the two leaders. Of course, these relations cannot be reduced to mere economic interaction: the story is much more complicated.
The political regimes of China and Russia are both a far cry from the ideals of liberal democracy. The principles of market economy and capitalism are also under attack in both countries. While China is building «socialism with Chinese characteristics» along with a planned economy, Russia continues to develop an authoritarian political regime along with a vibrant and adaptive market economy. What is the current state of bilateral trade? What does it look like?
Trade turnover between Russia and China in 2023
It is much more interesting to study the real indicators of trade turnover between Russia and China: it is here that we see circles on the water, on the basis of which we can draw conclusions about the principles at the core of this political and economic partnership.
On 21 April, the head of the Federal Customs Service of the Russian Federation, Vladimir Bulavin, told reporters that his agency would temporarily discontinue releasing statistics on imports and exports to avoid incorrect assessments. «This is a temporary measure,» he assured the media. Five months later, data on Russian exports and imports, including categories of goods and partner countries, have still not been published.
By the end of 2022, trade turnover between China and Russia grew by 29.3% to $ 190.271 bn. Even before Russia's full-scale military aggression against Ukraine and the imposition of economic sanctions, Vladimir Putin and Xi Jinping had set a target of $ 200 bn for mutual trade turnover in 2024. According to the General Administration of Customs of the People's Republic of China, trade turnover in the first half of 2023 increased by 40% on an annual basis, reaching $ 114.54 billion. After three quarters, trade turnover between Russia and China grew by 29.5% to $ 176.4 billion. Another quarter of 2023 is still ahead of us, but there is no doubt that the $ 200 billion milestone will be passed. But what is behind these figures?
What does Russia buy from China?
We draw on the official data from the General Administration of Customs of the People's Republic of China for January-August 2023 (in US dollars). This data often differs from Russian statistics, but only because of discrepancies in the accounting of certain categories of goods, not in critical amounts.
The total volume of Russian imports from China stood at $ 71,805,531,722. What goods make up this amount? Many items may surprise you. To make the statistics more accessible, we will use the standard concepts of the commodity nomenclature of foreign economic activity:
Let's look at the largest share of Chinese imports to Russia: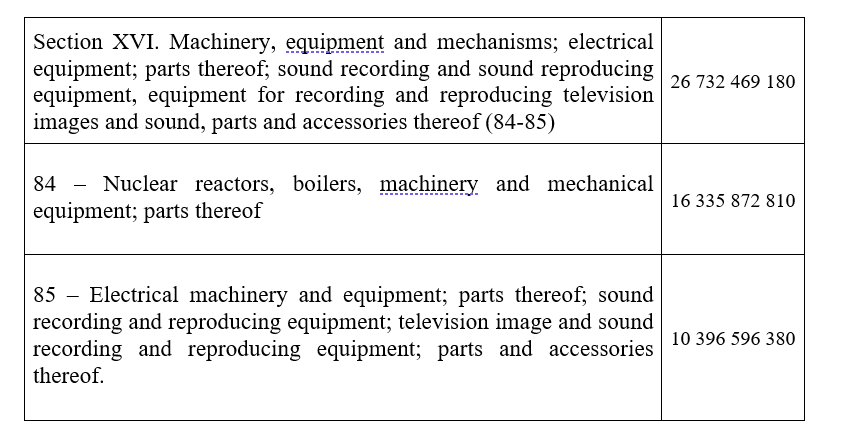 It should be noted that the statistics provided by the Federal Customs Service of Russia were much more detailed, down to specific categories of goods. The released statistics of the General Administration of Customs of the People's Republic of China only show the general class of goods. Do not be confused by the words «nuclear boilers» etc. Boilers, turbines, dishwashers, lifts, agricultural machinery, various types of machine tools and vacuum cleaners are all covered by Section XVI.
What can we deduce indirectly from these figures? Obviously, Russia does not need that many vacuum cleaners and dishwashers. According to the data published by the press service of the Chita Customs Service, what is meant here is most likely agricultural equipment and all kinds of industrial machinery in a wide range of sectors, from food production to mining. We do not have a clearer breakdown by commodity nomenclature code, so we can only describe imports from China in these broad categories.
In the first quarter of this year, employees of the Zabaikalsk International Road Border Post have cleared more than 11 thousand units of new equipment, which is five times more than in the same period last year. In May-June, after the Border Post switched to the round-the-clock operation, the volume of machinery imports/equipment imported from China quadrupled. According to the Zabaikalsk Ministry of Planning, more than 12,000 trucks were processed and cleared that month. In 2022 their number was 5,700. Eight thousand seven hundred vehicles travelled from China to Russia (a 2.5-fold increase). During the month the turnover of cargo at the border crossing increased 3.4 times and reached almost 160,000 tons. Some of the equipment is being used to build transport infrastructure in the Far East and Siberia, some is being used in the annexed territories of Ukraine, and some — to build fortifications on the front line.
Now let's explore the second largest section: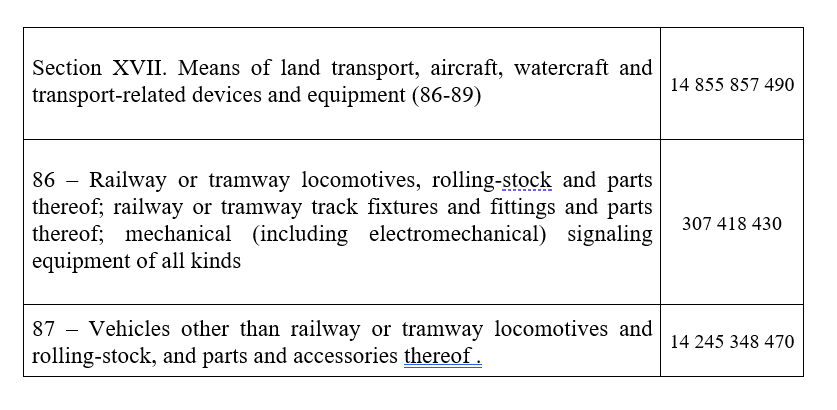 Code 87 also includes/covers tractors, motor vehicles, passenger cars, truck cranes, concrete mixers, i.e. transport in the broadest sense. Again, there is nothing extraordinary about it. In June, $ 1.03 billion worth of passenger cars were shipped from China, and in July, the volume of import was worth $ 1.06 billion. In July 2023, 80,300 new passenger cars were imported into Russia, and 78.5% of them came from China. Thus, in less than a year, Russia has become the largest car importer from China with a share of 16.8%. The United Kingdom came second with 7.7%. The statistics do not include cars assembled in Russia, but it is clear that Russian consumers are gradually switching to Chinese cars.
Accordingly, more than half of Russia's imports ($ 41,588,326,670) are construction and special machinery, motor vehicles, machine tools and domestic appliances. These are technologically complex goods that Russia cannot produce itself and neither can it purchase them from Western manufacturers. In other words, these are the critical categories of Chinese exports on which Russian industry, housing and utilities, logistics and business in general depend.
Let us briefly discuss other important categories of Russian imports from China: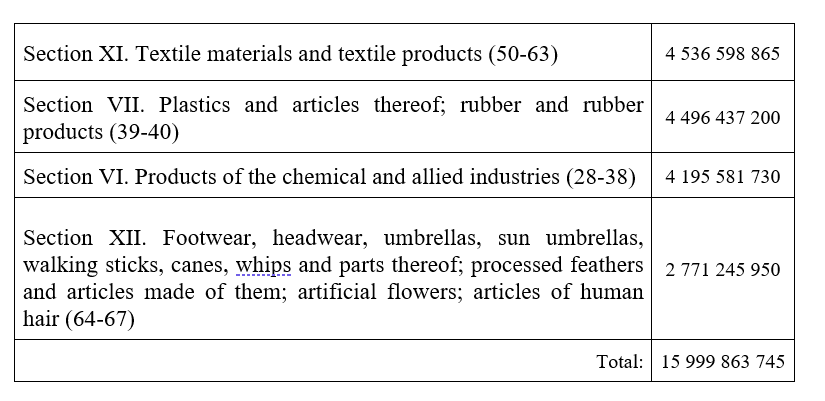 It is precisely these consumer goods — cosmetics, clothes, shoes, plastic pipes, bathtubs, toilet seats — the scarcity of which may force Russian society to ask a fair question: why have we become worse off?
What does Russia sell to China?
We will again draw on the official data sourced from the General Administration of Customs of the People's Republic of China for January-August 2023 (in US dollars) and analyze the main items of Russian exports to China. The situation here is much more straightforward than when we looked at Russian imports from China.
Total exports from Russia to China amounted to $ 83,296,911,000.
Let's study the largest section by value:

Thus, 78% of Russian exports to China are coal, oil and oil products, hydrocarbons and electricity. It seems like we could have ended our analysis right here.
The value of the next category of goods is 14 times lower and it covers metals exports:

Also worth mentioning are the categories of goods whose exports exceed $ 1bn:

Taking into account supplies of minerals, timber, fertilizers and metals, the anxieties that Russia could become a «raw-material appendage or a raw material colony of China seem more justified since 92% of Russia's exports do go to China. The supply of energy or timber is not in itself a bad thing, as every country has the right to use its trade advantages. The problem, however, is that the share of energy resources going to China is so large in the overall structure of Russian export that any change in demand from China could have serious economic consequences for Russia.
Russia is also trying to boost its food supplies, but in absolute terms they do look modest, although there is certainly growth there. Leading the way are vegetable oils (especially sunflower oil), fish and seafood. The growth in supplies is due to simplified logistics (by sea), increased sales in China as a result of China's sanctions against Japan, and the high cost of selling fish in China.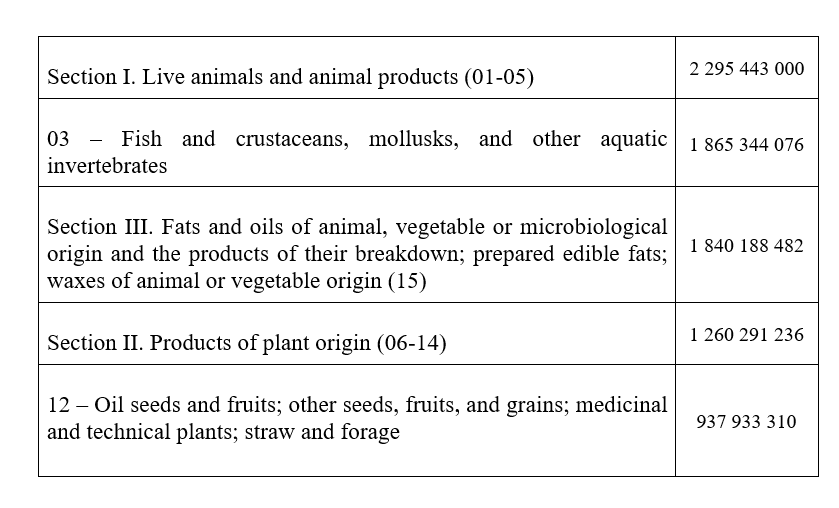 Where are the chips?
The «window to Asia» is Hong Kong. We do not have reliable statistics on trade between Russia and Hong Kong as a separate administrative unit of the People's Republic of China, but the data from analysts, media investigations and general business practice in Russia over the past two years suggest that most technology exports that could be sanctioned pass through Hong Kong.
If you are a large Chinese company registered on the mainland and do not want to risk your business being threatened with sanctions for trading with the Russian Federation, the easiest option for both the Chinese and the Russian side is to go through Hong Kong. Hong Kong is one of the busiest ports in the world, which naturally increases the risk of technology leakage. It is difficult for export control officials to conduct pre-shipment or post-shipment inspections. It is even more difficult to distinguish between transshipment to sanctioned entities and transshipment to legitimate importers when the importing country has a large existing market for dual-use items. According to the Observatory of Economic Complexity, Hong Kong has consistently ranked first in the world in electrical and electronic imports since 2004. Microchips for Russia or Iran could also be lost in this giant flow. According to Russia Briefing, in 2021−2022 the value of US semiconductor shipments from Hong Kong and China to Russia increased tenfold and reached about $ 570 million. From March to December 2022, China and Hong Kong accounted for about 90% of all chip shipments to Russia.
The websites of suppliers of goods from China to Russia usually state quite honestly that «often a Hong Kong company is just a legal entity registered in a low-tax jurisdiction, while the production itself is on the mainland. Although there are certain situations when the manufacturing is also located in Hong Kong. If the factory is on the mainland, we usually pick up the goods from the supplier's warehouse. If the factory is in Hong Kong, we will bring the goods to our warehouse first and then make the shipment from there.»
If something needs to be shipped quickly and you are prepared to pay for it in dollars in Russia, Hong Kong seems to be the most acceptable option as a hub. It should be stressed that Hong Kong does not just import Chinese products into Russia. It is a transshipment hub through which virtually anything can be smuggled.
What does this have to do with nesting dolls?
Let us go back to where we started. Mineral resources are at the heart of political, trade and economic relations between China and Russia. It is the core of the nesting doll, the smallest but the most important part, because the rest of the toy is built around it. Vladimir Putin personally oversees it: the Russian political leadership knows exactly where the money for waging war against Ukraine and paying social benefits actually comes from. It is a fairly compact industry with a limited number of decision-makers. You can even take these people to China and invite their Chinese counterparts to take part in negotiations. The export of mineral resources to China is the main pillar of the current political regime.
The next part of the Matryoshka doll is infrastructure and its components. This doll is controlled by the Russian government and Prime Minister Mikhail Mishustin, who is due to make another visit to China before the end of 2023. The state corporations responsible for developing this infrastructure are also involved in exporting equipment (in the broad sense of the word). Vladimir Putin has agreed with his Chinese counterparts to buy mineral resources, and expects Russian authorities to get busy building roads, extract minerals, build bridges and railways, restore the infrastructure of annexed territories and strengthen the front line. Industrial machinery and equipment and the supply of specialised equipment are critical issues that the Russian government is struggling to resolve.
The third nesting doll is the largest in terms of size. These are private Russian and Chinese companies that play by the market rules. They see the niche left by Western companies that have withdrown from Russia. They see a market of 140 million people in Russia, with rising incomes and a weakening ruble. And Russians need clothes to wear, food to eat, they need cars, household appliances, etc. Chinese companies are ready to work in these conditions, while Russian business has to adapt to political turmoil and is actively looking for partners in China and beyond.
Looking at the current export-import structure, there is only one obvious conclusion to be drawn. Russia has shot itself in the foot, leaving no room for market competition and no room for manoeuvre. Either you buy cars from the Chinese at the price they set, or you have no cars whatsover. Either you sell mineral resources to China at a price that China deems reasonable to pay, or you are left dealing with tons of your unsold oil and gas. Was it really worth putting your eggs, coal, metal and timber in one basket?